Tropical storm Sendong is shaping up to be one of the deadliest cyclones to hit the Philippines in the last 12 years, data culled by GMA News Research showed, with the death toll expected to surpass that of typhoon Ondoy two years ago.
With latest government figures pegging the storm's death toll at 332, Sendong already ranks 6th in the list of weather disturbances to cause the largest number of deaths in the country since 2000.
This figure, however, is expected to rise, with the Philippine National Red Cross already bringing Sendong's death toll to 521, higher than the 464 recorded by the government in 2009 when typhoon Ondoy poured record rainfall over Metro Manila and nearby provinces in Luzon.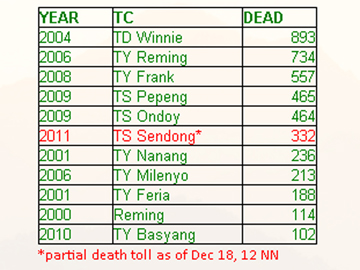 Source: GMA News Research based on NDRRMC data
Cagayan de Oro and nearby Iligan cities on Mindanao island were worst hit when Sendong slammed ashore while people slept late on Friday and early Saturday, sending torrents of water and mud through villages and stripping mountainsides bare.
Floods washed away entire houses with families inside in dozens of coastal villages in Cagayan de Oro and Iligan.
More deaths expected
Mayor Vicente Emano of Cagayan de Oro City said he expects the number of deaths caused by Sendong to be around 500 due to the huge number of missing persons rescue teams are still trying to locate more than 24 hours after Sendong's wrecked havoc on the city.
"Mahigit 300 na yata itong nakukuha naming patay pero sa tingin ko, aabot po kami ng mga 500 na patay dito dahil marami pa po masyado ang missing. Iyan ang problema," he said in an interview over GMA News TV on Sunday afternoon.
According to the National Disaster Risk Reduction and Management Council (NDRRMC), 281 persons are still missing due to flashfloods and landslides caused by Sendong as of Sunday afternoon.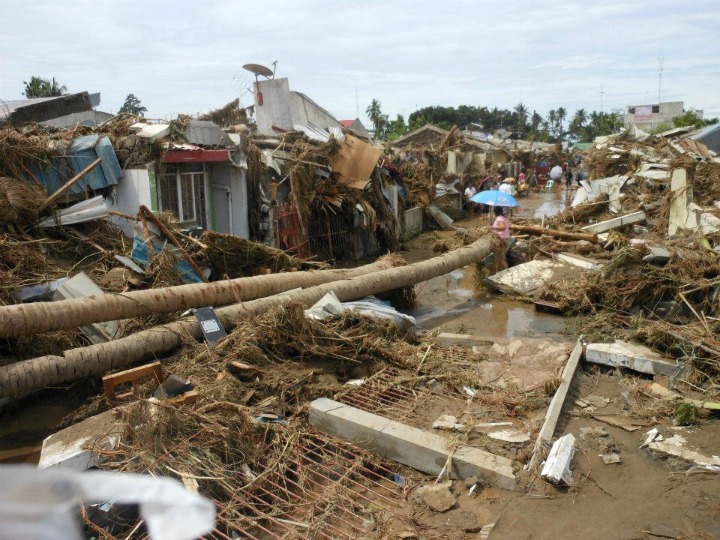 Residents were fast asleep in their homes, with no orders to evacuate, when Sendong roared through Iligan City. Irish Lungay
Emano said that although local authorities were aware of a coming weather disturbance, they did not expect heavy flooding, which he said was one of the worst his city has experienced in years.
"Hindi po namin inasahan ito. Nabasa namin ito sa diyaryo. Nakikinig kami. Wala namang sinabi na kami pala ang tatamaan ng mata ng bagyo. Meron na kaming mga bagyo noong araw kaya hindi ganito kasama," he said.
"Lahat ng tao, tinanggap na nangyayari ang bagyo every now and then dito sa amin, pero hindi namin akalain na ganito kagrabe ang tama sa amin," he added.
Leonardo Vicente Corrales, a freelance journalist in Cagayan de Oro, which has a population of half a million people, told AFP that fast-rotting corpses were piling up by the dozen at local mortuaries.
"The bodies are decomposing too quickly because they are drowning victims — because there is muddy water in their bodies," he said. "They also cannot embalm them because they do not have water and are running out of formalin (formaldehyde embalming fluid)."
In some funeral parlors, the bodies had to be stacked up because there was not enough space, Corrales said.

He added: "Electricity has been restored in the center of the city but in the affected areas, there is no electricity and there is an emerging water crisis because there is no potable water in the houses."
As an emergency measure, the city government in Cagayan de Oro has opened up fire hydrants and long lines are forming as residents queue for fresh water, Corrales said.

The NDRRMC maintained that it adequately warned local officials of the dangers that Sendong can possibly bring to their areas and even advised them to evacuate residents in low-lying areas to safer ground. - GMA News with AFP, Reuters
Incoming search terms:
sending typhoon (85)
weather report about sendong (10)